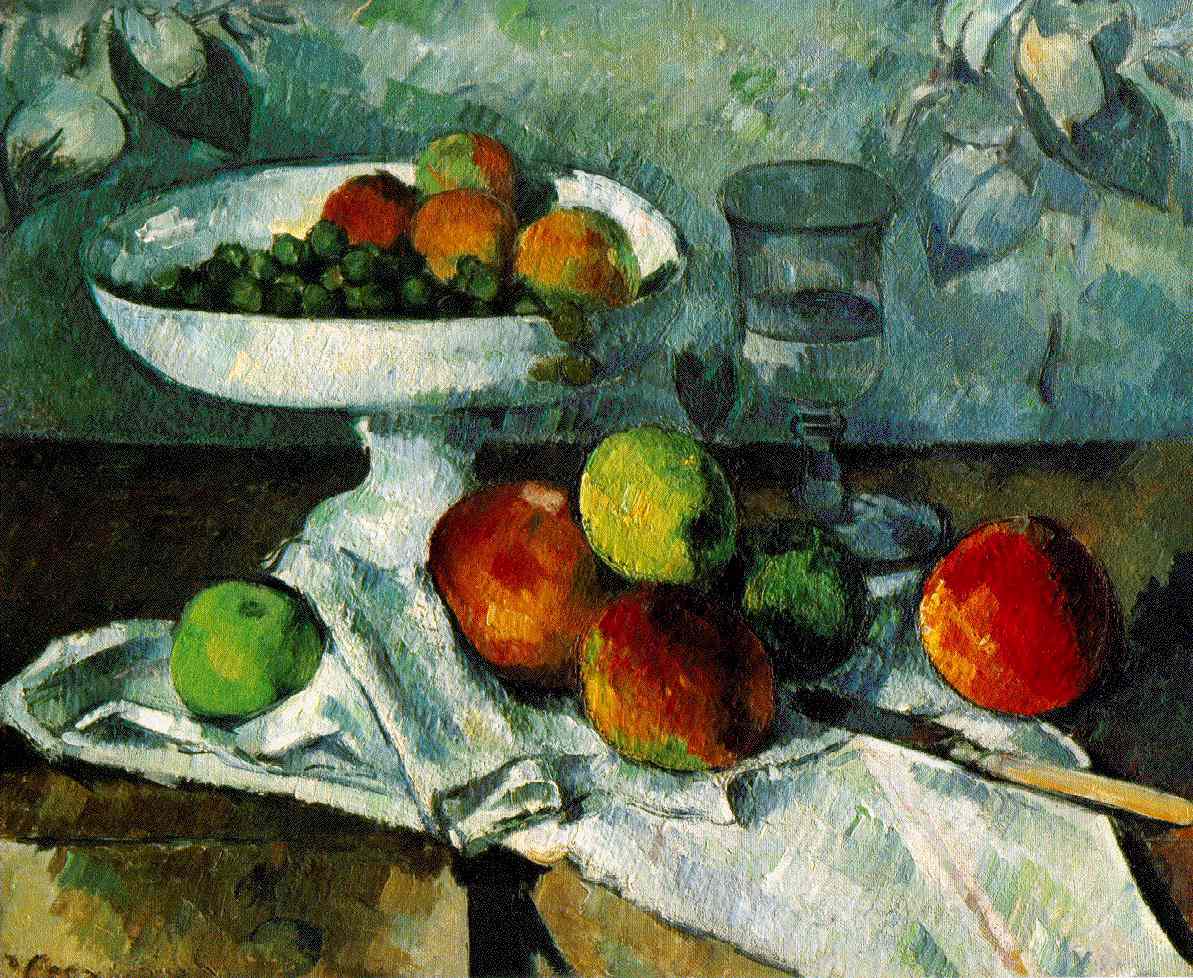 Picture: Still Life With Compotier,
Painting by Paul Cezanne (ca 1879-1882)
Collection Mr. and Mrs. Rene Lecomte, Paris
Sorry, but I get no sinful associations at all from this fleeting Calice Becker creation
In the City of Sin
. In the City of Sin is one of three initial offerings from the new ByKilian sub-line
In the Garden of Good and Evil
from handsome Hennessy heir, Kilian Hennessy. In the City of Sin is said to be "The temptation which leads to carnal desire".
In the City of Sin starts with a sparkling clean bergamot-cardamom dominated accord. Then some natural smelling fruity nots follows, there are no harsh chemical notes, instead the fruity notes are round, soft, fresh and perfectly ripe. The fruits reminds me of a tamer version of the fruity notes of
Bombay Bling
from Neela Vermeire creations. The fruity notes are supported by a bright, pink rose and tha blend is grounded in a rather cold woody cedar-patchouli base.
As hinted above, instead of sinful, In the City of Sin is a quite innocent, very officefriendly scent that could be worn daytime year around but preferably during spring, summer and the early autumn. Nice and friendly but to be honest, nothing special when taking into account that In the City of Sin is created by the flower-champion Calice Becker. I have to admit that I like the two of many perfumistas critizised offerings of the
Asian Tales
line (
Water Calligraphy
and
Bamboo Harmony
) much better than this mediocre composition.
The question what is happening with the ByKilian brand is justified when smelling this fleeting (probably already fully IFRA-compliant) fragrance. Earlier there was body and strength in the By Kilians.
The Arabian Nights
collection is great as also many of the fragrances of the initial
L'oeuvre Noire line.
Rating: 3
Notes:
B

ergamot, pink pepper, cardamom, apricot, plum, turkish rose, incense, atlas cedar, patchouli